As the General Manager of MyData Global, I'd like to warmly welcome everyone to the MyData 2019 conference! We're so excited about the event taking place is just around the corner! thought I'd share a few thoughts on the conference, what's new and what's there for you. Whether you're packing your suitcase or still thinking about it, have a read.
Our mission – to give you control of your own data – can be reached only through collaboration
Everything we do, is to help create fair, sustainable and prosperous digital societies. 
This means a vision of society, in which people have the rights, tools and services to control and utilise their personal data. 
In essence the shifts,  outlined in the MyData Declaration, are the glue that brings the attendees together. These shifts emphasise the agency of us as human beings:
> From Formal to Actionable Rights – meaning that we should be able to seamlessly and instantaneously exercise our digital rights, when using digital services.
> From Data Protection to Data Empowerment – meaning that we should not be just "individuals who need to be protected", but rather autonomous humans with the skills and tools to make use of our personal data – as we like. 
> From Closed to Open Ecosystems – meaning that there is a level playing field, and good, fair competition between companies.
It's a big change that we're asking for and that's why we need collaboration. To me, the conference is all about gearing up to implement these shifts – together.
MyData 2019 – Rebuilding trust – For human-centered data economy
The MyData 2019 conference is a place for accelerating this global change towards a human-centric approach to personal data. We expect that 800-1000 experts from business, legal, tech and society sectors will gather for the fourth time in Helsinki on 25-27 September 2019 for the MyData 2019 experience – the conference, NGI Forum and side events. 
There's so many new things this year! We're proud to be part of the programme of Finland's Presidency of the Council of the  European Union. It is quite exciting that we have the European Commission's Next-Generation Internet initiative, and its yearly NGI Forum is part of the MyData 2019 conference experience. 
MyData 2019 conference brings together people representing an incredibly diverse range of expertise – the conference is a neutral forum for companies, start-ups, researchers, government, activists, and NGO's to meet and work together towards more equitable ways to use and share data.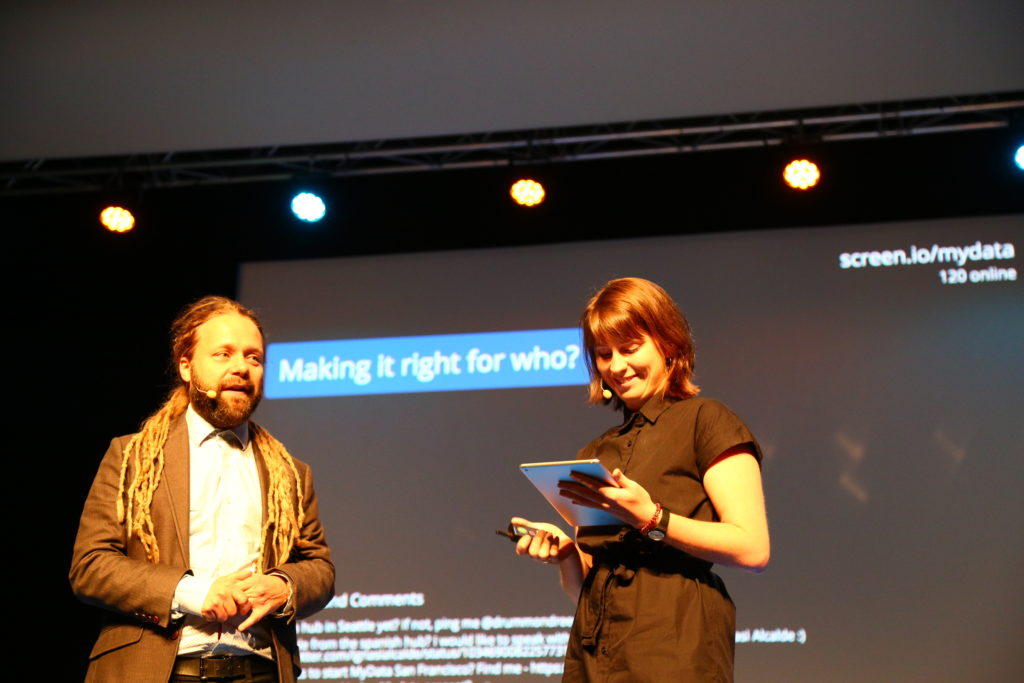 It's a tricky topic to chew on – have a BLT Sandwich!
The issues around personal data are far too complex for any one person, organisation, or sector to solve alone. That's why we talk about the BLT Sandwich, referring to the perspectives of Business, Legal, Tech, Society. 
Some of the overarching questions regarding the conference include:
Business
How can businesses demonstrate that their commercial models support their consumers ethically and overcome the convenience apathy, whilst showcasing that ethical business can be better business? 
Legal
How can different forms of legislation and regulation (and their enforcement) provide ingredients for solutions that enable the shift to a fair and sustainable digital world? How can legislation be a driver for innovation, not a blocker?
Tech
How technology can be wielded towards the benefit of individuals and especially to protect inherent human rights? How can technologies around personal data be harnessed to help the individuals, provide efficient public services – and help us reach the SDG's? 
Society
How can individuals, communities and societies use, share and benefit from personal data to support a fair and sustainable data economy for all?
These perspectives need to be considered, not only to make it happen, but also to make it right!
Welcome to the community that drives the change!
As you know, the conference is organised by the MyData Global. MyData Global is an award-winning international nonprofit, which has just 11 months ago formalised into a nonprofit. As part of our ecosystem and community development work, we organise the MyData conference – now for the fourth time.
MyData Global already has over 90 companies and other organisations and 600+ individual members from over 40 countries on six continents.  We have now 23 local hubs (such as MyData Japan, MyData Barcelona, etc.) and thematic groups (such as Health and A New Governance).

In total, a few thousand people participate in some way in MyData activities – we call this the MyData community. The conference serves as a great way to widen AND strengthen this community. Please make the most of it!
How to get the most out of the MyData 2019 conference
Wow. It is an amazing programme that we have and we are grateful to the nearly 200 presenters, hosts and facilitators who make this happen. Learning is of course one of the fundamental goals of the conference.

To make the most out of the conference, we highly encourage you to get out of your comfort zone and engage with various types of people and organisations – before, during and after the MyData 2019 conference. Try to see if you can see sessions that focus on all elements of the BLTS – not just the one most 'at home' to you.
But, remember the people! It's a unique opportunity to exchange views and start and build relationships with people and organisations all over the world. Go for it:

Meet the initiatives – the local hubs and thematic groups. The MyData Initiatives are well-represented at the conference. Nearly all of the 23 hubs and groups are present. They will have posters outlining their work and interests at the conference. Their contact details can be found at mydata.org/initiatives

Meet the partners. We have marvelous partners who are driving the change. Please take your time to explore and meet these organisations. As they are doing things, not just talking about it, it is extremely interesting to learn from them.
Meet the leadership. It is quite seldom that the whole MyData Global leadership is present. These bright minds have such an amazing amount of experience, expertise and perspectives, that I highly recommend pulling them by the sleeve, or using Brella to connect.
Enjoy the social programme. Whether you're in Helsinki for the first time, or you're a seasoned expert, we expect fun times to happen!
If you want, you can use the networking tool Brella to find some of the attendees and book meetings. 
You can also book meetings through this spreadsheet: mydata-global.org/MyData2019-Rooms-25Sept 
Since you're interested in the thinking behind MyData, you might also consider:
If you'd like to dive deeper, we also encourage you to 
I look forward to meeting you in person!
Teemu
Author:
[gdlr_personnel columns="3″ type="static" style="box-style"]
[gdlr_tab title="Teemu Ropponen" position="General Manager, MyData Global" author_image="//www.mydata.org/wp-content/uploads/2018/12/teemu.png" ]teemu[at]mydata.org[/gdlr_tab]
[/gdlr_personnel]